In my years as a practicing couples therapist, I have worked with many men from all walks of life seeking guidance on how to reignite the spark in their relationships.
Life and responsibilities got in the way and they feel disconnected from their partners and are unsure how to reconnect in a meaningful way. The good news—all of those men had hope, and if you're reading this and are looking for a nudge in the right direction—there is hope for you too!  I took the time to compile a list of different local hotspots and activities in the San Diego area that make amazing and romantic date night ideas. These will range in cost, so there is a little something in here to fit any budget—I promise there are plenty of amazing ideas here that will not break the bank! So without further ado, check out these 10 date night ideas in San Diego from a couples therapist that will help you rekindle the spark in your relationship.
1. Head to Seaside Reef to watch the surfers and the sunset
This date night idea costs nothing but a little free time. Seaside Reef (Cardiff State Beach) is where you can experience some of the world's top professional surfers as they play here daily, testing new moves & boards.
This is one of those date night ideas in San Diego that is easy on the budget and gives you ample time to talk with your partner and still enjoy watching something cool at the same time. This will also get you some bonus points if your special lady happens to like the beach.

How does this help rekindle the spark?
Use the time to catch up with each other's day while leaning on each other. Hold hands and take a stroll down the beach. Kiss her cheek while you watch the waves crash. Tell her she's much more beautiful than that San Diego sunset.
Trust me gentlemen—there are plenty of ways for a simple beach trip to rekindle that spark!
2. More Beach Time: Charcuterie And Conversation
This date night idea in San Diego is relatively inexpensive and gives you plenty of opportunity to plan a romantic afternoon or evening for you and your partner. San Diego has several beaches you can choose from:
La Jolla Shores

Del Mar

Mission Bay
This list goes on and on! Pick any beach you and your partner like going to and pick up some stuff at the store or an evening picnic under the sunset together. Most women will love the idea of a romantic charcuterie and wine date night on their favorite beach. 
How does this help rekindle the spark?
A common modern problem in relationships is a lack of meaningful communication. Modern life and the interconnectedness of digital media have most of us focused on work or our phones way more than we should be. This can have a negative impact on relationships if you aren't aware of the distractions.
A beach picnic gives you time to reconnect and talk to each other without the distractions of technology and the temptation to fall into your home routine. Changing up your environment to check in and reconnect with others can make a world of difference. 
Use this time to hold hands, hug, kiss, walk on the beach, compliment each other, and whatever else comes to mind that feels romantic and intimate. Time alone without distractions is necessary to maintain the intimacy that separates a couple from roommates.
3. Not All Strikes Are Bad – Go Bowling!
Bowling might sound like a random shot in the dark after pitching romantic beach nights and magical sunsets while the waves crash, but hear me out. 
Bowling is one of those activities that sounds kind of lame until you start playing. It is exactly for this reason it is a recommendation for a fun date night idea in San Diego together. Bowling can be a little spendy at times, but if you go on a weeknight a little later in the evening, it is usually a little cheaper to play. There are plenty of variations on the classic bowling adventure, and feel free to customize the experience to something that fits your vibe—hatchet throwing, driving range, indoor put-put, etc. What have you been wanting to try?
How does this help rekindle the spark?
As I said, it's the unexpected ace-in-the-hole. A strong sign of a healthy couple is the ability to play together and have fun. It can be a good change of pace to do something fun and physical if you have fallen into a rut of weekly dinner date night. 
It is the dose of unexpectedness that can rekindle the spark in your relationship. Get her thinking to herself something like, "I did not see that coming." Even as adults, it's good to play every once in a while. 
4. Laugh It Off At A Comedy Show Together
If you've never given much thought to going to a comedy show together for a date night idea in San Diego, I'd ask you to reconsider. 
Date nights serve two purposes primarily: 
To set aside time to reconnect that is away from your normal routine.

To work in a sense of intimacy and connectedness that separates couples cohabitating from roommates who have lived together a long time.
Romance is always a good move, but they don't say "laughter is the best medicine" for nothing. Comedy shows in San Deigo are all over the place and range in price, so it's not too hard to find one that fits your budget.
How does this help rekindle the spark?
Going to a comedy show together has one purpose—to laugh together.
Couples who laugh together have a better chance of being able to handle relationship adversity. Think of it as a team-building exercise. Date night activities such as going to a comedy club together give you a chance to be on the same team and laugh about the same things. 
You'll take that comradery into the rest of your relationship. Furthermore, laughing together is a great way to shake off any unpleasant recent arguments and remember that you two love each other and are on the same team.
5. Date Night Ideas In San Diego – It's Wine O'Clock!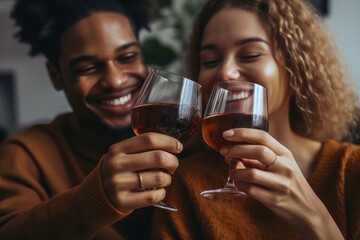 What woman doesn't like a little uninterrupted wine and conversation? If you want to sweep your partner off her feet, offer to take her to a wine tasting. A solid option in San Diego is the Bernardo Winery.
Wine tastings can be an expensive date night, but if you can fit in the budget, it's well worth it. Most wineries have options for wine tastings to fit multiple budgets, so with a little planning, it makes a great San Diego date night for you and your partner.
How does this help rekindle the spark?
Simply put—couples who spend time together talking uninterrupted are less likely to fight. Setting aside time to be together not only rekindles that spark, but it keeps that spark ignited.
Women want you to make time to talk to them without competing with your job, cell phone, laptop, TV, or other distractions. Taking them out for a great glass of wine and uninterrupted conversation speaks volumes about your commitment to making your relationship stronger gentlemen.
6. Cruisin' And Boozing Together: Moonlit Dinner Cruise
This date night idea is going to cost a little more than most of the previous suggestions, but if you have the funds, it is a top-tier romance for a date night in San Diego. 
This puts a little flair on the classic dinner date. In San Diego, you can book a moonlit cruise with Hornblower's Cruise and order the full moon dinner cruise package starting at about $85 per person.
How does this help rekindle the spark?
Like many of the other date night ideas, this one serves the purpose of getting you out of the house where those patterns of interaction take over and get you two in a new environment to reconnect with each other. Beyond that, some women want to know that you're invested enough in the relationship to 1) plan something like this and 2) drop the cash to pay for it. Your intentionality in planning this date will not go unnoticed. 
Dinner gives you the chance to catch up and talk to each other, and the moonlit sights give you the chance to hold hands or hold each other while taking in the views and simply enjoying each other's company. 
Trust me, gentlemen, holding her hand and kissing her cheek while looking at the moonlit lights and sights will speak volumes if you aren't great with words. Rekindling that spark doesn't have to take a lot of effort, and she will appreciate the initiative.
7. Challenge Each Other – Hit Up A Trivia Night!
This date night idea in San Diego is perfect if the typical dinner date night isn't your style. Trivia nights are all over the city almost every night of the week in bars, breweries, and clubs, so it shouldn't be hard to find one that fits your schedule and your budget.
You'll get bonus points for this date night idea if your partner is a bookworm or a trivia buff, so treat her by engaging in a hobby you know she's a fan of!
How does this help rekindle the spark?
As I said, if your partner is a trivia buff or a bookworm, she is going to love the chance to put those skills to use while having you be a part of it. 
Doing activities the other likes with them is a great way to connect and build intimacy in your relationship. If you have a hard time picking a date night idea and you know she is into trivia, taking her to a trivia night is going to make her very happy!
8. Ditch The Movie Theater – Go To A Drive-In Movie Together!
This date night idea in San Diego has the perfect combination of catching the latest film while having a more intimate setting than going to the regular movies.
The Pearl Hotel in Point Loma has a weekly outdoor movie night, and there are other outdoor movie options available throughout San Diego as well. These all vary in price, so it shouldn't be too difficult to find an option that fits your budget and schedule.
How does this help rekindle the spark?
Traditionally, the movies are less than ideal for a date night if you are trying to talk and spend quality time together. A drive-in movie offsets some of that.
While you can't talk per se, you have more opportunities to get comfortable, buy your own favorite snacks without worrying about sneaking them into the theater, and you have more privacy for intimacy such as hugging, kissing, hand-holding, etc.
You get the experience of going to the movies while being more comfortable and intimate with your partner. This is a great date night idea in San Diego for quality time and catching a great flick together if one of you is a movie buff!
9. Take a late-night stroll in the park
If a date night idea in San Diego is your goal, a late-night stroll in the park is a solid bet. I recommend somewhere like Balboa Park, where you have plenty of other options like museums, plays, and more. 
The less you plan to do, the less it'll cost, so if just a stroll is your goal, it's easy on the wallet.
How does this help rekindle the spark?
Couples need to spend uninterrupted quality time together doing activities they love. A romantic and quiet stroll through a park where you can hold hands and check in with each other is a great step toward rekindling that spark if life has gotten in the way.
So take your partner to the nearest park at sunset, take a stroll, grab her hand, tell her you love her, and enjoy spending some quality time together gentlemen.
10. For the nature lovers: take a sunset hike together!
Torrey Pines State Reserve is just one of the possible spots for these date night ideas in San Diego—a sunset hike together.
If you and/or your partner are big nature lovers or really into hiking, this is a great option for quality time together. Since it's a sunset hike, you can do it any day of the week and it doesn't cost much to go on a hike together, so it's budget-friendly.
How does this help rekindle the spark?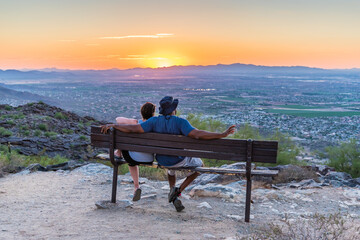 The big thing here is quality time—and hikes are a great way to escape the mundane date night options most couples opt for. You can still do the dinner before or after the hike if you wish, but the hike gives you two a chance to reconnect with nature and each other. So gentlemen, grab her hand and take her on a hike and then hold each other while watching the sunset on the horizon together for this last date night idea in San Diego. 
Learn more about date night ideas and other strategies for rekindling the spark in your relationship through
online couples therapy
in California, Oregon, and Florida
Life has a way of throwing couples curveballs—and often, men are left to take the initiative to make sure the spark in their relationship doesn't die. At Stress Solutions, we are committed to helping you and your partner stay connected and rekindle that spark of life and responsibilities that have gotten in the way. When our team helps you two to rediscover your incredible friendship and the love that brought you together in the first place, you will find your way out of your mundane relationship rut and keep building that strong relationship you both deserve! To learn more about how to rediscover that spark of romance and intimacy, follow these simple steps:
Schedule a free consultation with a couples' therapist in California, Oregon, or Florida
Get to know our team of therapists

Start receiving the support your relationship deserves
Other Services Offered with My Stress Solutions
Coupes therapy isn't the only service that Stress Solutions offers. We understand you may be facing other mental health concerns, which is why we are happy to offer a variety of mental health services. Other services offered include stress, anxiety, trauma, EMDR, and overcoming addictions. We are happy to provide support for both individuals and men via in-person and online therapy. Visit our blog or learn more about us for more helpful info today!